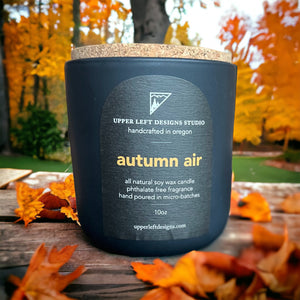 autumn air soy candle // dark ceramic
Regular price
Sale price
$20.00
---
Fall in love with the warm and cozy scent of the autumn air soy candle. Our reusable dark ceramic jar will add a touch of warmth to your home with its hand-poured natural soy wax and subtle hint of fallen leaves. Each candle is clean-burning and non-toxic for you to enjoy the perfect combination of style and scent this season.
top // cinnamon, citrus, + chrysanthemum
mid // apple, berries + green leaves
bottom // pecan, cedar, fruit + spice
This candle is enhanced by an infusion of cinnamon leaf, patchouli, cedar, vetiver, and sandalwood essential oils.
My soy candles are all hand-poured and made in small batches coming in a variety of lovely seasonal scents!
I began making candles and wax melts because I wanted to feel safe about what I was burning in my home. That is why I make clean-burning soy candles and melts that use all phthalate and nitro musk-free fragrances.
Here is the nitty-gritty on these candles and wax melts |
*Each scent comes in very small batches with very limited quantity. If you have a special scent request, please fill out the contact page.
The Wax | They are made of pure soy wax. Soy wax is one of the cleanest burning candle waxes because it produces 90 percent less soot than paraffin waxes. Soy is a sustainable wax choice, and it burns longer than paraffin wax! Plus, burning soy candles won't ruin the upholstery and walls of your home. Soy is an excellent candle choice!  
The Fragrances | The fragrances used are 100% phthalate, and nitro musk-free. I personally try to reduce my exposure to phthalates as much as possible, so when I decided to make candles, this was a top priority.
The Process | These candles are all carefully hand-poured in small batches, which means each scent offered has a very limited quantity.
I hope that you can enjoy these as much as I do, or share them with a friend!